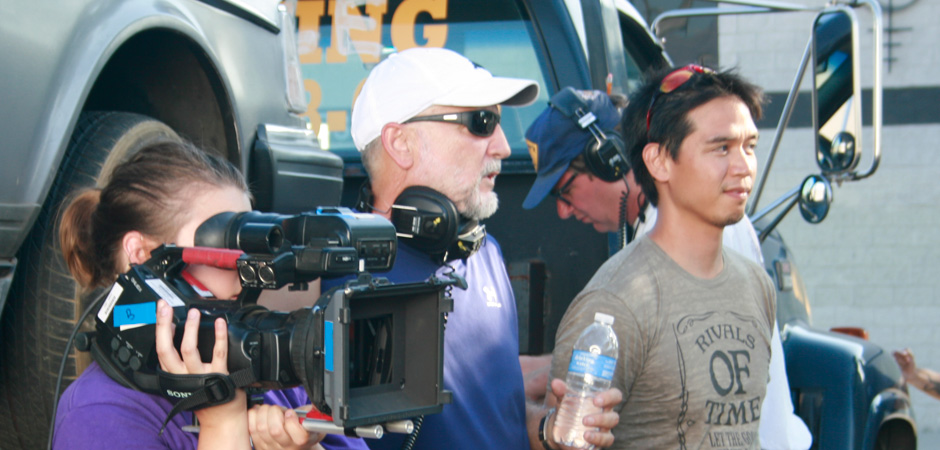 (L to R - Beth Jackson, Steve Albrezzi, James Hornsby & Charles R. Uy)
An award winning feature film, that was produced with an incredible cast and crew in 12 days.
Commencement stars Marin Hinkle (TWO AND A HALF MEN), Arye Gross (GREY GARDENS, MINORITY REPORT), Rick Gonzalez (COACH CARTER), Jennifer Warren (ICE CASTLES), Alan Rachins (LA LAW), Amelia Rose Blaire (90210), Joan Almedilla (MISS SAIGON, LES MISERABLES) and Bryan DeChart. Written and Directed by USC Professor Steve Albrezzi. The film was photographed by Joe Pennella (MONK, TRAFFIC LIGHT). Produced by Charles R. Uy and Vero Shamo-Garica.
LOGLINE
Three generations of a family going through the financial crisis. Commencement is a new begining.
SYNOPSIS
Although Christa (Amelia Rose Blaire) is a well liked sorority sister and valedictorian of her class, the harsh realities of life begin to hit her on graduation day when her boyfriend Andrew (Bryan DeChart) dumps her. Already distraught, her car breaks down on her way home, leaving her in the middle of nowhere. However, it just so happens that the nearby garage mechanic has an attractive nephew named Javier (Rick Gonzalez) who can give Christa a ride home. Christa's parents Nate (Arye Gross) and Gillian (Marin Hinkle) are setting up her commencement party, while also juggling their eccentric parents and financial troubles. Gillian's mom, Jennifer (Jennifer Warren), wants her to take a new job with a law firm, while Nate's dad Peter (Alan Rachins) explains how his gender neutral clothing reflects his sexuality. However, Peter and Jennifer talk about their kid's trial separation, unbeknownst to Nate and Gillian. If things weren't already difficult, Nate and Gillian's financial situation is stretched, and Nate reveals that work has been slow to nonexistent ever since the financial downturn. He happens to overhear Gillian talk to a congressman about a job opportunity, which would mean moving to Washington. Christa's downtrodden mood drastically changes when Jennifer surprises her with her gift - a brand new car, which ironically sours Nate's mood as the family is strapped for cash. Javier returns to Christa's house, as she accidentally left her phone with him, and is invited to join the party. However, he ex-boyfriend shows up as well, and the rush to the corner to talk. Andrew doesn't apologize for breaking up with Christa, and it's evident that he wants her back. Christa immediately realizes that she's better off without him, and returns to the party and Javier. As the night comes to a great end for Christa, she discovers her father fighting with her grandmother over the financial matters of the party. Jennifer knows Nate is low on money, and in an effort to help out and pay the card dealer, accidentally hurt his pride. Nate and Peter, father and son, go out to talk about his outburst, and Gillian and Jennifer, mother and daughter, go inside to talk about Gillian's marriage. After everyone calms down, reconciles, and leaves, Nate and Gillian are left alone, where they fall in love with each other all over again. Seeing her parents together again, Christa smiles and leaves with Javier.